from the Arabic, according to the wording
pharaoh's watercourse
This is an aqueduct dated from the Seleucid and in particular the Roman time during the Decapolis. At that time, this city network located in today's Syria, Jordan and Israel, connected major and historical cities.
The aqueduct carried water for the Decapolis and therefore improved the region's development and wealth. By the fall of the city network, which was also caused by several earthquakes of enormous extensions, the derelict Decapolis aqueduct was further rebuild and refurbished over the course of centuries in order to continue its use.
The highlights are the large number of sources fed in, the dam with the reservoir el Ghab at the beginning, the over 35m high aqueduct bridge, Jisr el Mesari, over the Wadi ez Zedi to the east of today's Dera'a and the tunnel sections beginning immediately afterwards with a total of approx. 97km Length.
In the first section, due to the topography, only shorter qanat tunnels with canals running at ground level were used. Only after crossing the Wadi ez Zedi at Abu el Qantara did the aqueduct enter the long tunnel section.
This tunnel (~85km) is the longest tunnel in the ancient world, despite being interrupted by at least 3 discovered bridges.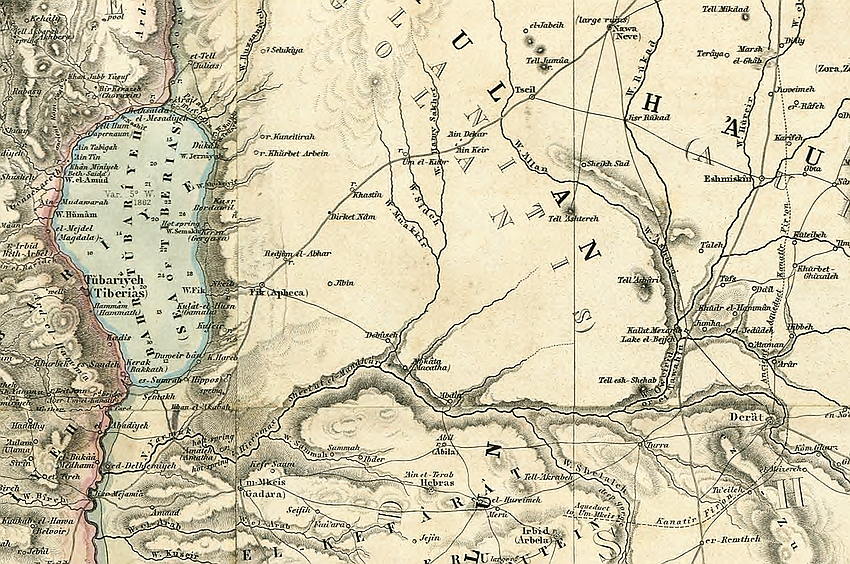 By following the navigation on this website, you find further information to the region and the cities, which are connected to the aqueduct.
These information will continuously completed and present a real scientific database to this outstanding construction. As a matter of course, I am pleased to answer any further questions ( click here for the email contact ). There are many more fields with the potential to be closer studied and examined.
Currently, you are in the main category of Qanat Fir'aun. By following the subpages, some prominent facts about the construction are described in more detail.
Within the content area (on the right) of each website, you find mostly a below link which brings you directly to the Qanat Fir'aun section regardless of reservoir, bridge, substruction or tunnel.
you find further information incl. the exact geolocation by following the links and the subpages.
In case of searching for specific information: Please use the free text search tool from the main menu (top right).
Information about the website's responsive design and the image rights hier. state 12/2017 , © Jens Kleb
Here, you can seen the exact geolocation of the construction.